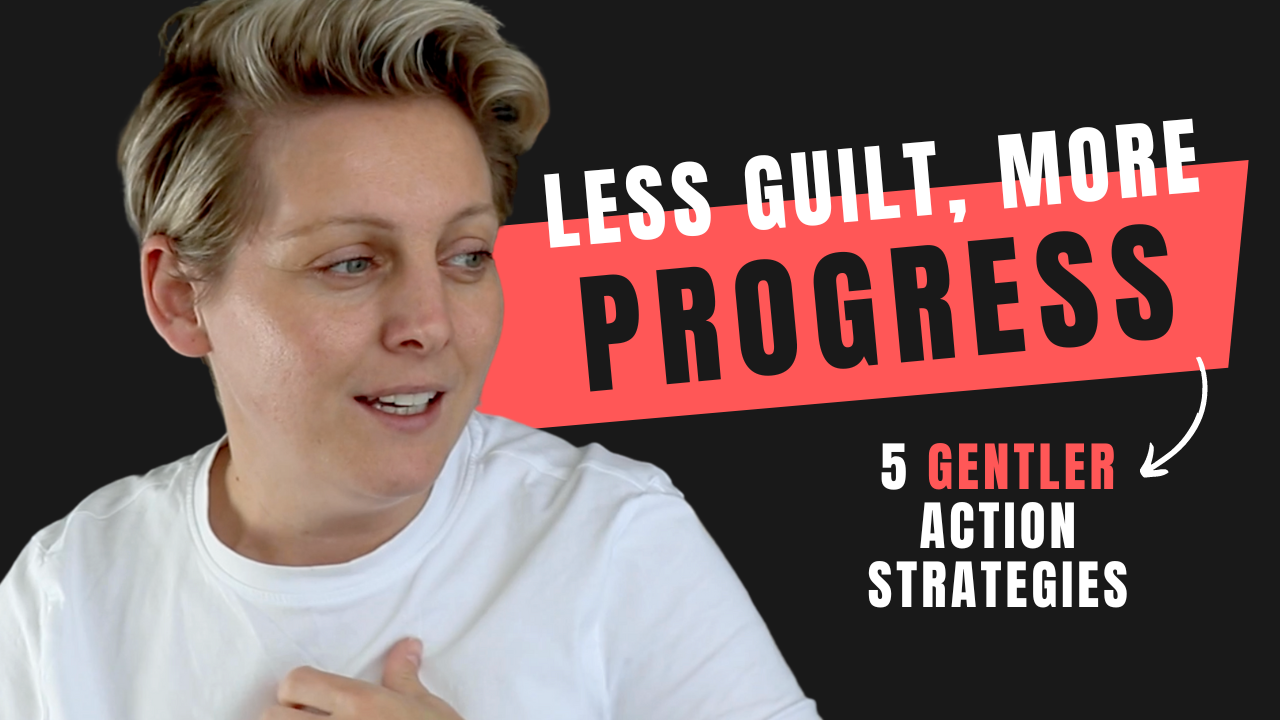 18 Jul

Getting it finished: 5 softer approaches for getting your important work done

"People set these crazy plans and approaches and targets they can never meet because: over–egging your plan and setting crazy targets is a form of sabotage – it gives you the ultimate out."

New video now live – Getting it finished: 5 softer approaches for getting your important work done.

The secret to success is 49% action and 99% 'YOU' – shh, that adds up scientifically – and the capacity you have to do three things:
Try things when there's no guarantee it will work;
Put yourself out there and risk failure; and,
Feel like an imposter and turning up anyway.
Even when you create the time and resolve to take action and do the important work, it's still your mindset that will allow it or block it.
What if someone judges how I look on camera?
What if it isn't good enough and no-one buys it?
What if it only gets five likes and then everyone thinks I'm silly for posting?
There are two types of work us lot need to do.
The first type of work is output related. Show me your chapter outline. Give me a one pager on your new programme idea. Let's see your first video cut.
That's physical output – stuff other people can see, buy, use and share. That makes sense right?
The second type of work is all internal.
It's feeling vulnerable about posting a video, recognising that story started as a child for you, and supporting yourself to show up in a way that feels safe to you over time. It's a process, it's not an outcome.
It's knowing you have a habit of giving away all of your money because you think that's what it takes to receive love, and working hard to spot it when you do it, sit in the discomfort of deciding to keep your money and doing the work to change your story about your own worthiness. It's a process, it's not an outcome.
It's recognising you tend to say yes to everyone else and your dreams have ended up one week down the list, one year down the list, one decade down the list and now you're working through the guilt you feel just for taking some time to work on yourself. It's a process, it's not an outcome.
THAT'S THE WORK ISN'T IT?
When people say to me things like "Lisa, I'm struggling to post because I feel like an imposter", there is often a full stop there. But the sentence can't stop there. There must be an exploration of where this comes from, what benefits it's giving you now, and how you plan to work through this.
All the while, there is mounting pressure to post, to create, to finish and so you heap tonnes of guilt on top of the fact you're struggling to get things done.
I know, because I feel it too. That second example above – the money / love one – that [has been] me [in the past]!
So we need something else, don't we?
It's taken me a long time to learn what it really takes to change your life and get projects over the line. Sometimes it is MASSIVE, high energy, physical action, it's true. Sometimes, you do just wake up, shut down a business, move to Manchester and finish the book 😉
And sometimes it's SLOW, gentle, bumpy action that includes reading books about trauma, spotting patterns over years of cycles, going to therapy to work things out, and creating safe places to create.
In this video, I'd like to look at this slower, gentler energy and give you five different strategies you can explore for making progress on your real dreams. Safely. Creatively. For the longterm outcome not the short term fix.
Spoiler alert: I'm not letting you off the hook today. I'm saying that there are two types of work – the output and the mindset. This video says 'here's how to finish the output, by focusing on the mindset work'.
Dive in. You're ready for more.
Lisa